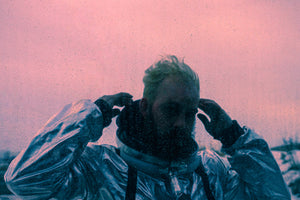 Motorbike James
---
I can't believe my eyes. As if looking in a deep space mirror, a perfect mirage comes floating towards me. My eyes go wide, fixed upon the figure moving out of the shadows and into the light.
He has so much color in his skin, standing strong and straight before me. There is a glow in his eyes. A youthful light, but with lifetimes of wisdom beyond that. Neither of us speak. Suddenly memories start flashing through my mind. Memories of my youth. Of warmth and love. I shut my eyes and feel myself within them. I feel the seasons on my skin, the warm air in my lungs. It's incredible.
I feel reality no more, only the reality of these memories.
Focusing my eyes I take a step back.
I've been alone in space for nearly a year,
The exhaustion has me hallucinating.
I'm looking at myself.
The flesh and blood of Motorbike James.


Motorbike James is a stream of consciousness writer, he writes through pure emotion and what he feels in the moment. What comes out the other side is a unique offering of music that is hard to pin under any one genre. Elements of electronic, indie rock, psychedelic, and R&B poke through each song.